WinHelp, a standard
format
for creating help files in Windows, is one of the formats available when developing documentation with
Help Development Studio
. A new help format from Microsoft, known as
HTML Help
, is steadily gaining popularity among software developers. Many developers, however, still prefer to use WinHelp for the documentation of their software applications. WinHelp is supported by all versions of Windows, so you can be sure that a WinHelp (.HLP) file, when distributed with your application, will function correctly for the end-user.
Help Development Studio fully supports the creation of WinHelp (.HLP) files. To create .HLP files for your project, Help Development Studio uses the WinHelp compiler (HCRTF.EXE) from Microsoft, which can be found in the distribution package accompanying your development tool (such as Visual Basic, Delphi, and others), or, alternatively, it can be downloaded from our Web site. The WinHelp compiler also comes with the freely available Microsoft Help Workshop package (for more information on the help compilers, click
here
).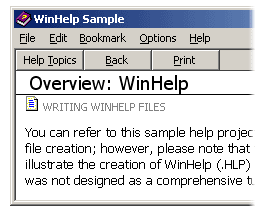 When using
Help Development Studio
to create .HLP files, you do not need any skill or experience in working with Microsoft Help Workshop. There is no need to work with special tags in .RTF files, the syntax of which is quite difficult. Nor is there any need to know technical aspects of the HCRTF.EXE compiler. All you need to do is spend a minute linking the
help compiler
to Help Development Studio. After doing that, you can compile and run your own .HLP files by choosing a menu command or clicking the appropriate toolbar button.

Help Development Studio lets you do everything that the WinHelp system can do: create help topics and write the accompanying text in the integrated editor, create your Table of Contents and Index, use browse groups, access WinHelp macros, etc. A variety of special tools, which are integrated into the environment, make the process of working on a help file as easy as possible.