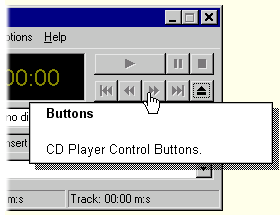 Using screenshots in help files makes your program much easier to learn and more comprehensible. But simple screenshots, which just demonstrate your program working, are not enough. The screenshots should include so-called hotspots. These are predefined regions that can be clicked on by the user to display context-sensitive information.
How do you create images with hotspots? This functionality is provided with the Segmented Hyper Graphics (.SHG) file format, which was developed for use with
WinHelp
(.HLP) files. However,
Help Development Studio
lets you easily use .SHG files for both WinHelp (.HLP) and
HTML Help
(.CHM) files. All you need to do is simply insert a .SHG file into the text of a topic and compile your help file. With Help Development Studio, you can use .SHG files in HTML Help as if they were .BMP, .JPG, .GIF or any other graphical file formats.
We offer an excellent tool, which has been specifically designed to create images and screenshots to be used in help files. This is
Hotspot Builder
, another of the help authoring products available on our Web site. Hotspot Builder is not just an editor of Segmented Hyper Graphics (.SHG) files; it is also a powerful tool for the efficient creation of screenshots and processing of images. The program includes a variety of different screen capturing tools such as "spy-tool", which allows you to make screenshots by capturing only the required dialog-boxes. There is no need to copy an entire window and paste it to a separate editor like Paint, via the Windows Clipboard.
Moreover,
Hotspot Builder
allows you to change image color depth and also includes some special features for preparing Segmented Hyper Graphics (.SHG) to be used in
HTML Help
. This would make the tool useful for those who would like to use .SHG in their HTML Help Workshop (.HHP) projects, but prefer not to use Help Development Studio. As mentioned above,
Help Development Studio
fully supports the Segmented Hyper Graphics format and automatically compiles .SHG files into a HTML Help (.CHM) file, therefore, Hotspot Builder's special HTML features are not required by those users. This, of course, does not diminish the usefulness of Hotspot Builder for Help Development Studio users, who will find it to be an indispensable member in their help authoring toolkit.