Web Help is a
help format
specially developed to allow creation of an on-line version of your help documentation. No matter what help format (
WinHelp
/
HTML Help
) you are using for your application's help file, your users will definitely find it convenient to have a tutorial available on the program's Web site as well. This is particularly true if the on-line version of the documentation is updated more frequently than the program itself. A user's manual in the Web Help format should have easy navigation and a good appearance, just as does the regular help file, which is included in your distribution package.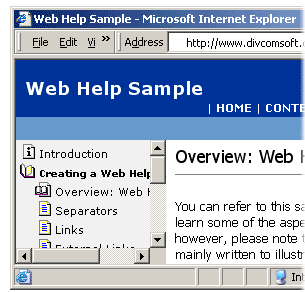 With
Help Development Studio
, you can easily prepare your help project for publication on the web. For this purpose, we have developed a powerful and freely distributed plug-in, entitled
On-line Manual
. Practically, all you need for creating Web Help is to download and install the On-line Manual package. After the plug-in is installed, you will be able to export your .HDS help project into Web Help (.HTML) format.
Help Development Studio allows you to tailor the appearance of the on-line manual to the design of your Web site. Alternatively, you can just choose one of the built-in design schemes. The Web Help file-set created by
Help Development Studio
includes the Table of Contents and Index, which are automatically exported from the original help project. To publish the on-line manual, just upload all the generated files to a defined folder on your Web server and make a reference to it from the program's home page.