To create
WinHelp
(.HLP) and
HTML Help
(.CHM) files with Help Development Studio, you need to install and link the appropriate help compilers from Microsoft. These compilers are freely available with the Help Workshop and HTML Help Workshop packages. The WinHelp compiler may also be packaged with a development tool, such as Visual Basic, Delphi, and others.
To create .HLP files,
Help Development Studio
uses the WinHelp compiler (HCRTF.EXE) from the Microsoft Help Workshop package. To create .CHM files, the program uses the HTML Help compiler (HHC.EXE) from the Microsoft HTML Help Workshop package. Both of these help compilers are also available on our Web site, so that you can download the necessary packages directly from this page.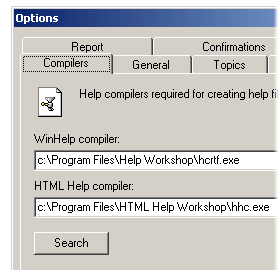 Once the packages are installed on your computer, link the help compilers to Help Development Studio. To do that, choose the "Options" command from the "Service" menu. In the dialog box, you should set the compilers' locations into the appropriate fields. If you do not know whether you have a help compiler installed on your computer, or do not remember its location, use the "Search" button. Clicking this button will search your hard drives for the required files and automatically fill in the fields if any files are found.

If you cannot find the WinHelp or HTML Help compiler on your computer, we suggest that you download these packages from our Web site. Just click the links below to start downloading.